Burkinabè architect Diébédo Francis Kéré has been named as the laureate of the 2023 Praemium Imperiale for Architecture, given by the Japan Art Association (JAA) and Lord Patten of Barnes, Praemium Imperiale's International Advisor in the UK.
Since 1989, the prestigious Praemium Imperiale Awards, presented annually, honour individuals in the five categories, including Painting, Sculpture, Architecture, Music and Theatre/Film – covering fields of achievement not represented by the Nobel Prizes.
While Diébédo Francis Kéré, the 2022 Pritzker Architecture Prize-winner, has been awarded for the 2023 Praemium Imperiale for Architecture, Icelandic-Danish artist Olafur Eliasson has been awarded for Sculpture.
Diébédo Francis Kéré. Image © The Japan Art Association / The Sankei Shimbun
Latvian American visual artist Vija Celmins has been awarded for Painting, American musician Wynton Marsalis has been awarded for Music and theater director and visual artist Robert Wilson has been awarded for Theatre and Film. 
Diébédo Francis Kéré was praised for "combining local materials and skills with innovative design and smart engineering solutions, while maintaining a focus on working with local communities."
Burkina Institute of Technology in Koudougou, Burkina Faso in 2020. Image © Jaime Herraiz, courtesy of Kéré Architecture
"This "thinking differently" approach is at the heart of Kéré's arrestingly beautiful architecture. In the school in Gando and other projects in Africa, Kéré has focused on providing simple, achievable plans for buildings that utilize the skills and energies of the local community – employing traditional building materials and marrying them with modern design, allowing in light and much needed ventilation, while at the same time ensuring a sense of pride for its users," reads the jury statement.
"Weaving together elements of traditional African design, with modern architecture, Kéré has worked on some temporary and permanent structures in Denmark, Germany, Italy, Switzerland, the UK and the USA."
"References to his African roots can be seen in design elements such as the colors of Coachella's Sarbalé Ke in 2019, the wooden patterns of Xylem in 2019 at Tippet's Rise, USA, and his constant referencing of trees – of their central role in providing shade in Serpentine Pavilion in 2017 or even the focus of a form of democratic debate as in the new Benin National Assembly," the jury added.
Benin's new National Assembly building. Image courtesy of Kéré Architecture
Born in 1965 in Gando, Burkina Faso, he was the oldest son of the village chief. Kéré was the first in his community to attend school, only the city of Gando didn't have a school, so he left his family at the age of seven. 
In 1985, he was awarded a vocational carpentry scholarship and travelled to Berlin. He was learning to make roofs and furniture by day, while attending secondary classes at night.  
In 1995, he was awarded a scholarship to attend Technische Universität Berlin, Germany, graduating in 2004 with an advanced degree in architecture.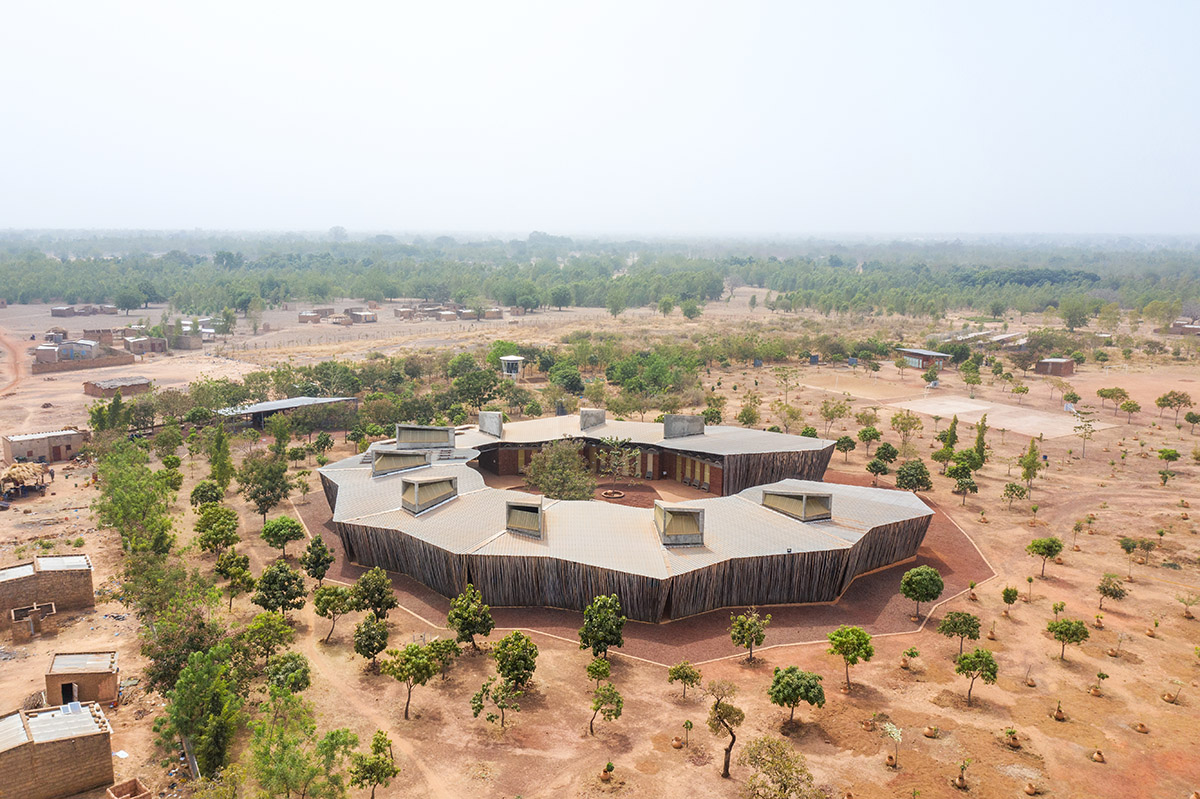 Lycée Schorge Secondary School, Koudougou, Burkina Faso, 2016. Image courtesy of Francis Kéré
Diébédo Francis Kéré has transformed architecture not only in Burkina Faso, but also across Africa and beyond. 
Studying in dark, hot, unventilated classrooms instilled in him the desire to make better buildings and his career as architect. He studied in Germany and established the Kéré Foundation to raise money for his ambition to design and build a school for his birthplace.
Kéré, known for his using of local knowledge, locally-sourced materials and collaborative building processes, designed several buildings – including contemporary school institutions, health facilities, professional housing, civic buildings and public spaces.
Startup Lions Campus in Kenya's Turkana County, Kamwokya Community Center in Uganda, Lycée Schorge Secondary School in Koudougou, Burkina Faso are among his significant educational projects.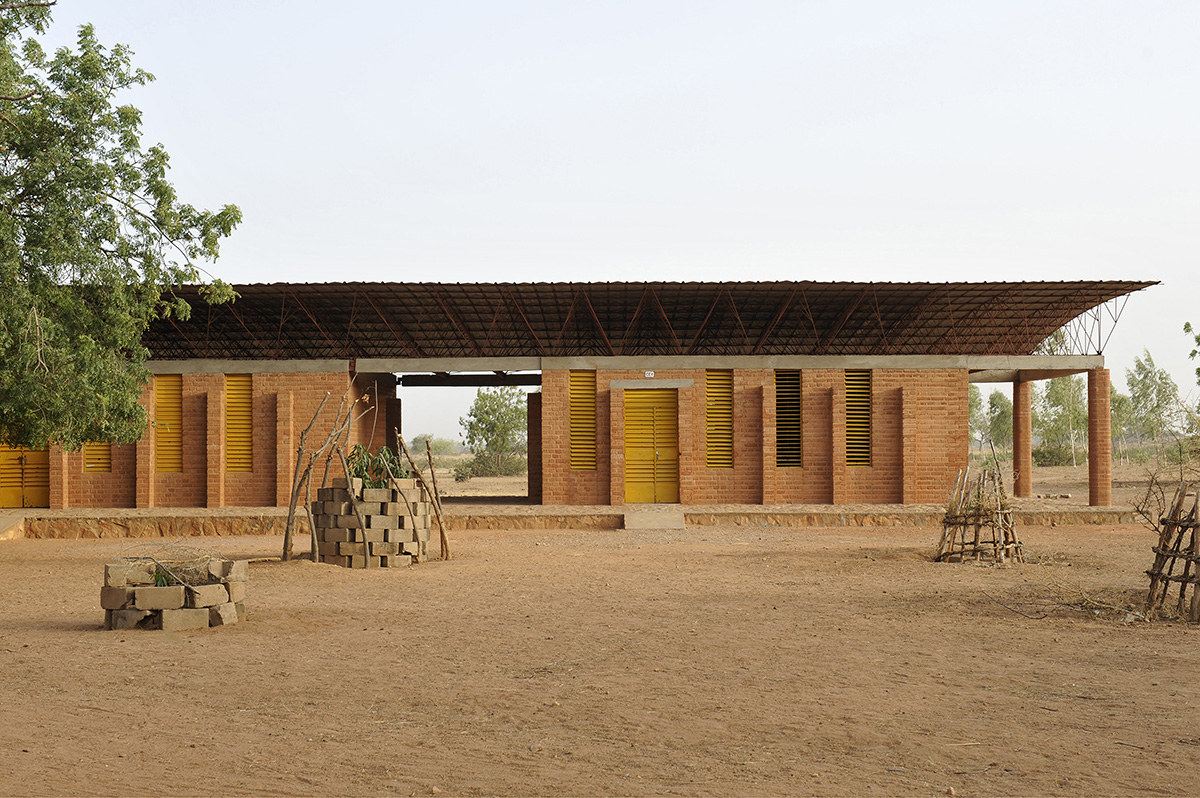 Gando Primary School, Gando, Burkina Faso, 2001. Image courtesy of Erik-Jan Ouwerkerk
The Gando Primary School, built in 2001, is his first built work in Burkina Faso realized with the help of local builders. 
To build this school, Kéré fundraised internationally, while creating invariable opportunities for local citizens, from conception to vocational craftsmanship training.
In one of his recent keynotes, Kéré said "cheap solution is very dangerous." 
"If you're using clay in the good way is not always cheaper than the cheap solution that are you presenting. The way you do that it is about lifespan," he said at the 28th UIA World Congress of Architects. 
Kéré's other projects include Goethe Institute Dakar, Kamwokya Community Center in Uganda, the new Benin National Assembly, inspired by African palaver tree.
2017 Serpentine Pavilion. Image © Iwan Baan 
In 2017, Kéré designed the Serpentine Pavilion in London's Kensington Gardens. He was the seventeenth but the first African architect being selected to design the annual Serpentine gallery pavilion. 
This year, the Yale School of Architecture also launched a new scholarship honoring Diébédo Francis Kéré to support African students studying architecture at the school.
Diébédo Francis Kéré was named as the recipient of the 2022 Pritzker Architecture Prize. Kéré is the first African architect receiving this prestigious award since the prestigious Pritzker Architecture Prize was launched in 1979. 
For the Praemium Imperiale Awards, each laureate receives an honorarium of 15 million Yen – which is equivalent to £90,000. 
In 2022, SANAA founders Kazuyo Sejima and Ryue Nishizawa have been named as the laureates of the 2022 Praemium Imperiale for Architecture. 
Previous winners include David Hockney, Mona Hatoum, Anish Kapoor, Antony Gormley, Norman Foster, Richard Rogers, Rafael Moneo, David Chipperfield, Glenn Murcutt, Tod Williams and Billie Tsien, Judi Dench, Christian de Portzamparc, Anthony Caro and Tony Cragg.
Top image in the article © The Japan Art Association / The Sankei Shimbun. 
> via Japan Art Association
Diébédo Francis Kéré
Olafur Eliasson
Praemium Imperiale
The Japan Art Association