British architecture parctice Heatherwick Studio and Harley-Davidson have unveiled plans for a new community park that features a motorcycle hub which will be a central element of Harley-Davidson's Headquarters in Milwaukee, Juneau Avenue Campus in the United States. 
Developed as part of initial stages of large-scale plans celebrating the brand's 120th anniversary this year, the vibrant park will be open to the brand's employees and its hometown community.
Heatherwick envisions a circular layout that consists of motorcycle driveways and turning circles alongside parking bays, sidewalks, plants and seats to embrace the idea of "togetherness for the community, riders and employees alike."
"A civic and soulful green gathering space"
While Heatherwick Studio will act as Design Guardian in the project, the studio will be collaborating with HGA, a Milwaukee-based architectural firm. HGA will act as architect of record in the project, providing civil engineering, landscape, lighting, and technology design. 
Commissioned by Harley-Davidson, Heatherwick Studi will transform the concrete site into "a civic and soulful green gathering space that can be used by everyone, including employees and the local community."
"Our goal is to turn this historic factory land into a new public park for the people of Milwaukee," said Thomas Heatherwick. 
"We want to make an exciting community space where people can come together with friends and family and experience the wildness of nature alongside spaces for food, performance and play."
"The ambition is to highlight and celebrate renewed life in the Near West Side of this very special city," Heatherwick added.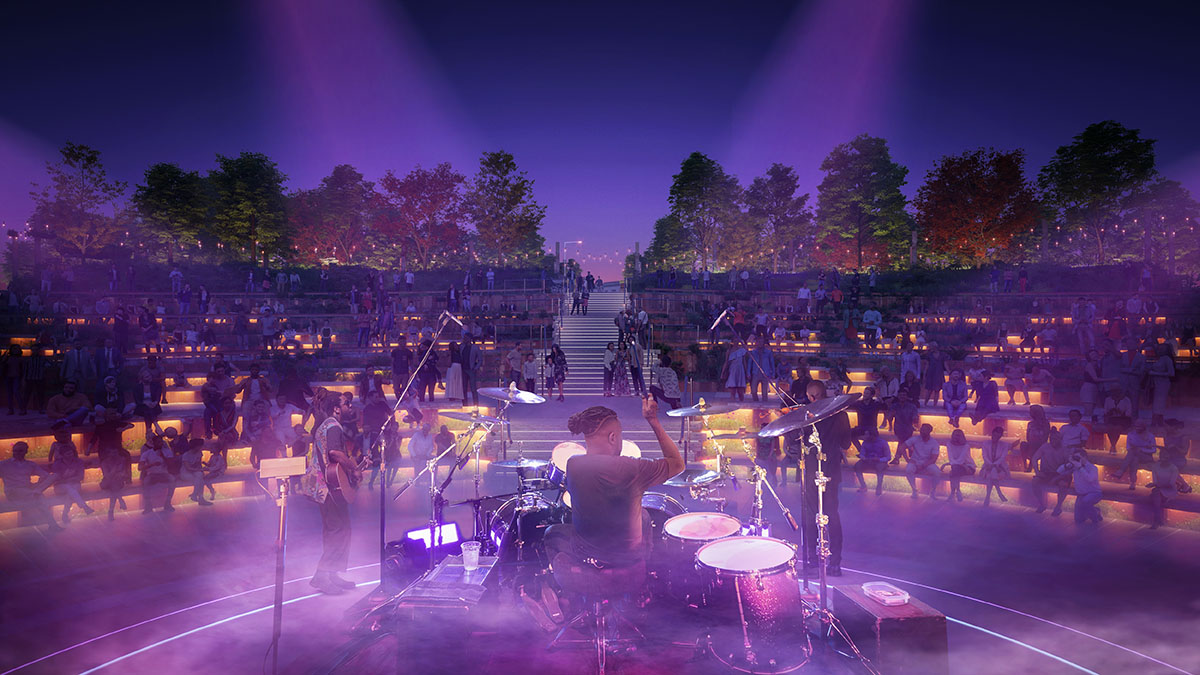 The team plans "The Hub" at the heart of the park, which will be a sunken multi-use events space. It will be a 83-meter-wide with tiered seating, set among lush plants and trees. 
Its circular layout is informed by a combination of motorcycle driveways and turning circles alongside parking bays, sidewalks, plants and seats, and 360-degree viewpoints. 
The team will build The Hub by using 10 types of locally-sourced brick, natural wany-edge timber, and weathered steel with a beautifully warm patina.
From a certain perspective, the Hub will provide views of the handsome brick buildings of the original home of Harley-Davidson. 
In the other, visitors will see a park sown with 120 native plant species, including 20 species of trees and 100 species of perennials, some of which are sacred to the Forest County Potawatomi. 
In the plans, the team also designs a market street, contemplative garden, and nature playground.
The initial development will be overseen and funded by The Harley-Davidson Foundation with longer-term sponsorship and donor-opportunities, to further enhance the project, being made available in the future.
"Milwaukee is the place we have proudly called home for 120 years. We want Harley-Davidson's presence in Milwaukee to be more relevant than ever before, for our community, employees and our customers," said Jochen Zeitz, Chairman, President and CEO of Harley-Davidson. 
"It's important to us to protect and enhance this part of our heritage in a way that is aligned to our strategy, ensuring that it will be relevant to generations to come."
"Kicking the project off in our 120th year underscores both the importance of the project and the commitment that we are making to Milwaukee." 
"We are very proud by the work of the Harley-Davidson Foundation in spearheading this project, which builds on the $30 million donated by the Motor Company to the Foundation since 2020," Zeitz added.
Greenfire Management Services, a Near West Side business and diverse supplier will ensure the project realizes its potential to become an important part of the Milwaukee landscape that reflects both Harley-Davidson's values and its transformative aspirations for the community.
The community park development will break ground in spring of 2023 and it is planned to be opened in the summer of 2024.
All visuals courtesy of Heatherwick Studio.
> via Heatherwick Studio
community park
concept
Heatherwick Studio