New York-based architecture practice Studio Link-Arc has created an installation from mushroom mycelium to explore the relationship between living organisms and architecture in Shenzhen, China.
The project, named Inverted Architecture, was installed at an exhibition, More than Human Adventure, as part of the theme of the 2022 Shenzhen Biennale, titled Urban Cosmologies.
Installed at a converted old Kingway Brewery in Luohu District, the inverted structure was showcased from December 10, 2022 to March 12, 2023.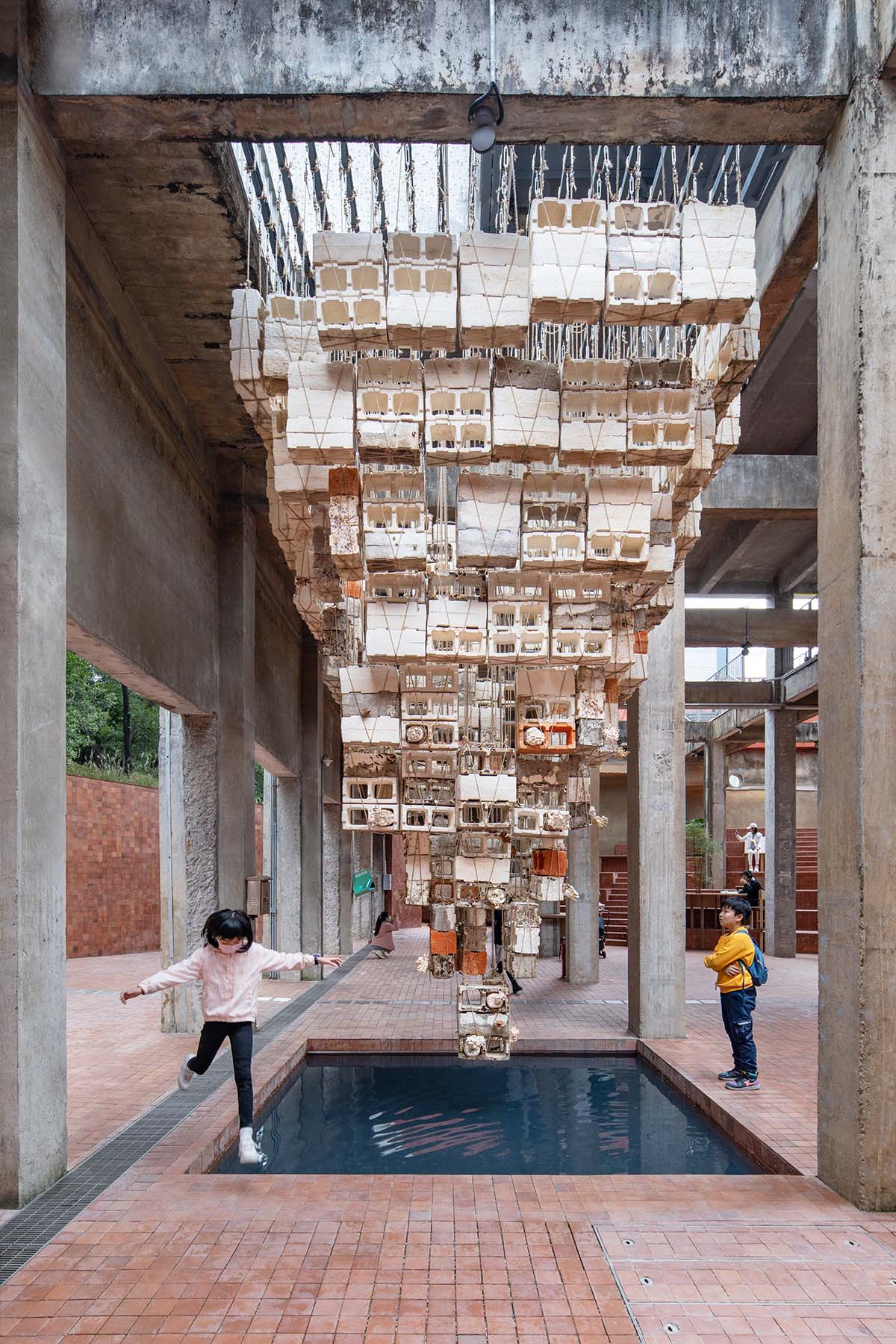 With not only the upside-down form, but the material it creates makes it even more interesting. The upside-down-shaped installation is made of 400 hanging mushroom bricks – which is a renewable and bio-degradable material.
With this installation, Studio Link-Arc aims to explore the intersection between living organisms and architecture in response to the theme of the exhibition.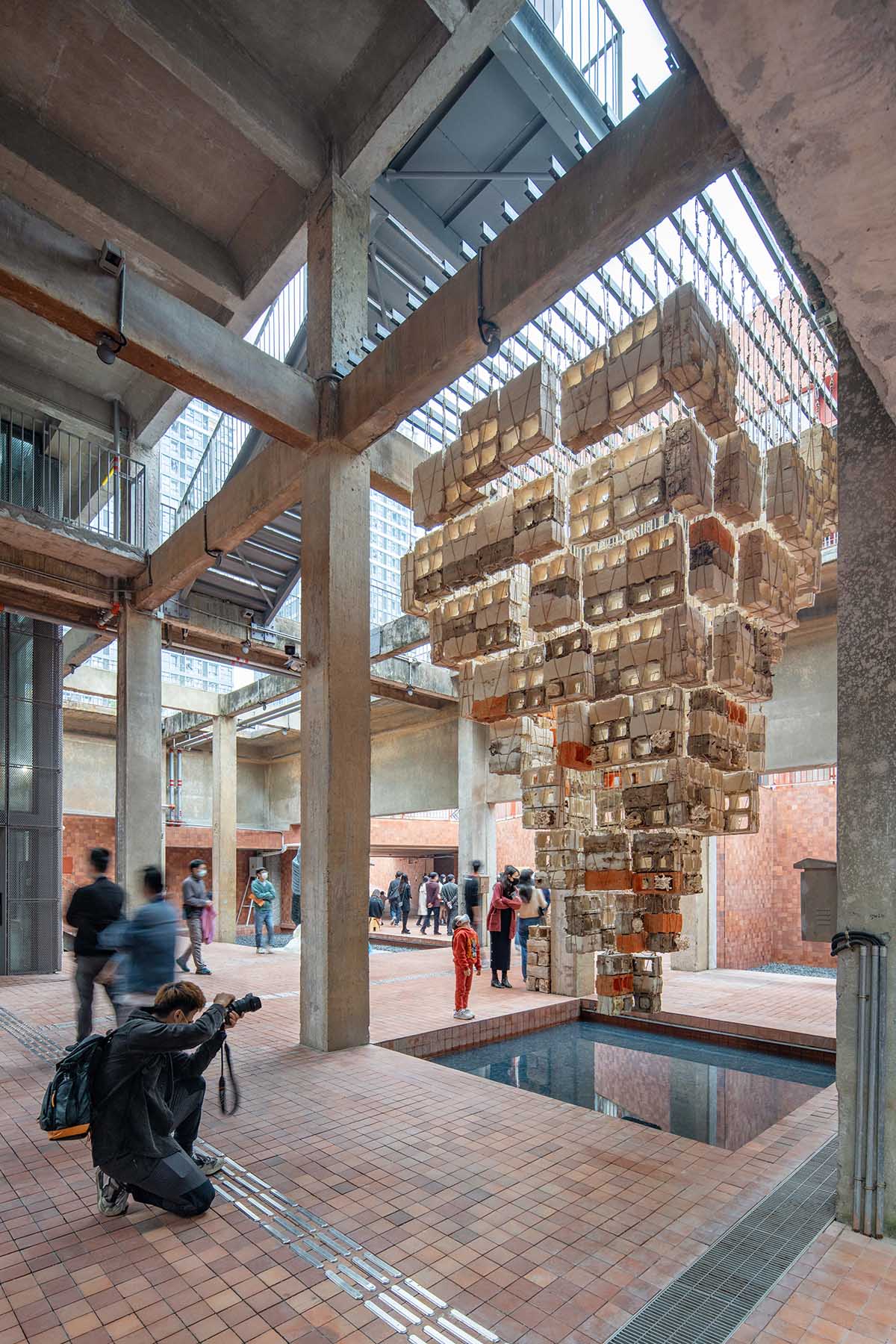 Mycelia or mycelium (mushrooms) are living, root-like, vegetative structures of a fungus consisting of a mass of branching. They can sometimes cover thousands of acres. 
"They have tremendous abilities to survive and adapt to various environments and their demands," said the studio. 
In this installation, considering the natural organisms, the team aims to reflect, visualize, and learn from such organisms to adapt the languages and techniques of architecture to the future.
In a simple way, the studio translated the material into the new language of construction, and according to the architects, "this installation explores relationships between architecture and an ecosystem that is mostly unknown." 
"The aim is to dissolve boundaries and create a symbiosis, or a collaboration between both realms," the architects added. 
Designed in an inverted-pyramid shape, the approach flips traditional views on its head, illustrating the existence of second natures, double functionality, duplicate purposes, man-made and nature, present and future, and finally growth and decay. 
"A symbol that is also an anti-symbol," the studio continued. 
The team grew the bricks with their own hands rather than to produce. Using agricultural waste straw, bagasse and wheat bran as substrate in each brick, it allowed the mycelium to grow naturally and the material solidified over time.
The final result was a material with enough structural strength and plasticity that could be turned into any shape under the right temperature and humidity.
"Once its life as construction material ends, several months in the soil will see the complete degradation of the mushroom brick, thus being no burden to the environment," said the office.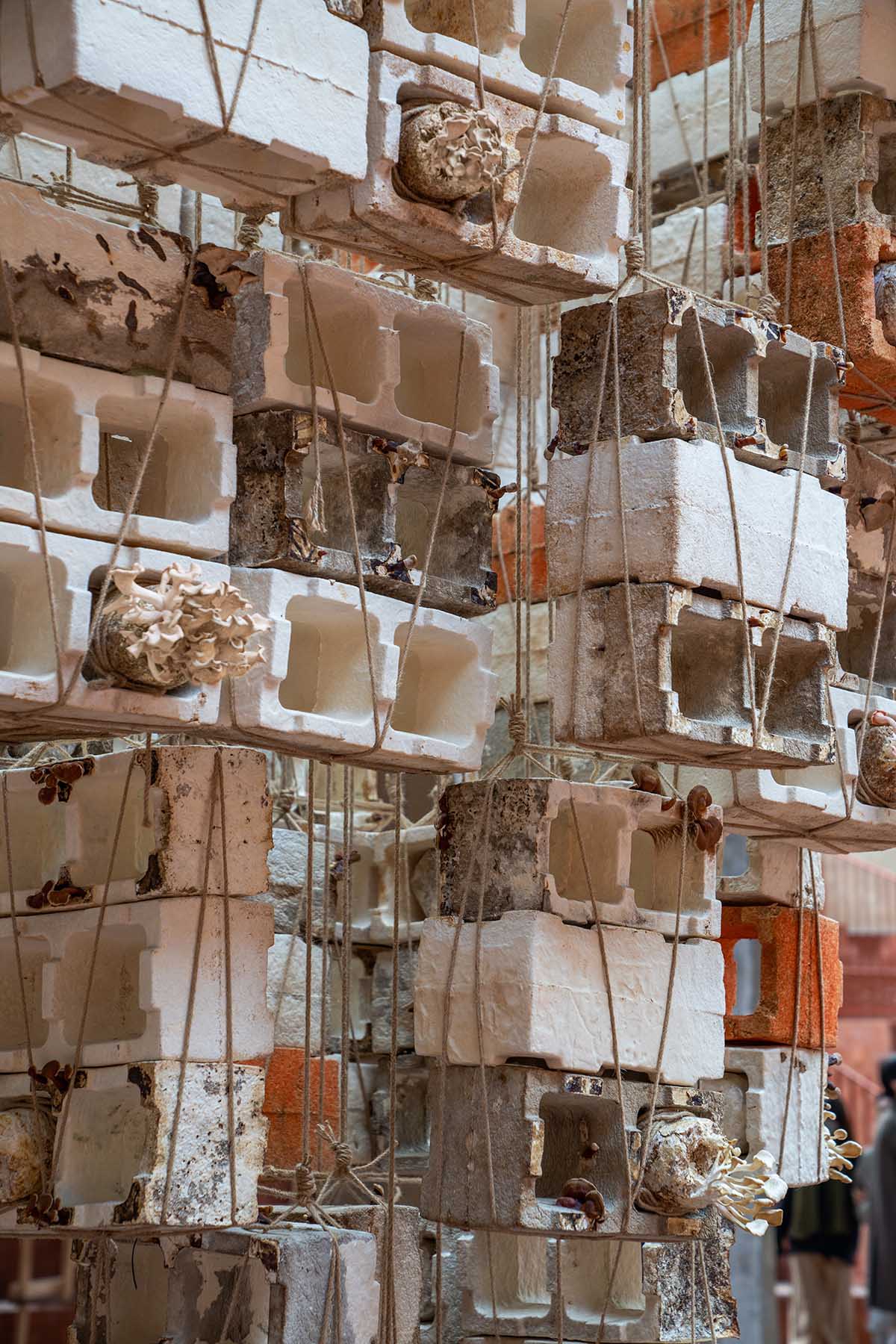 The exhibition has gallery spaces between continuous concrete frames, and through its indoor-outdoor spaces, it provides an ideal place for mushroom bricks to absorb moisture from the air. 
In addition, a pool is created under the installation to provide a moist micro-climate.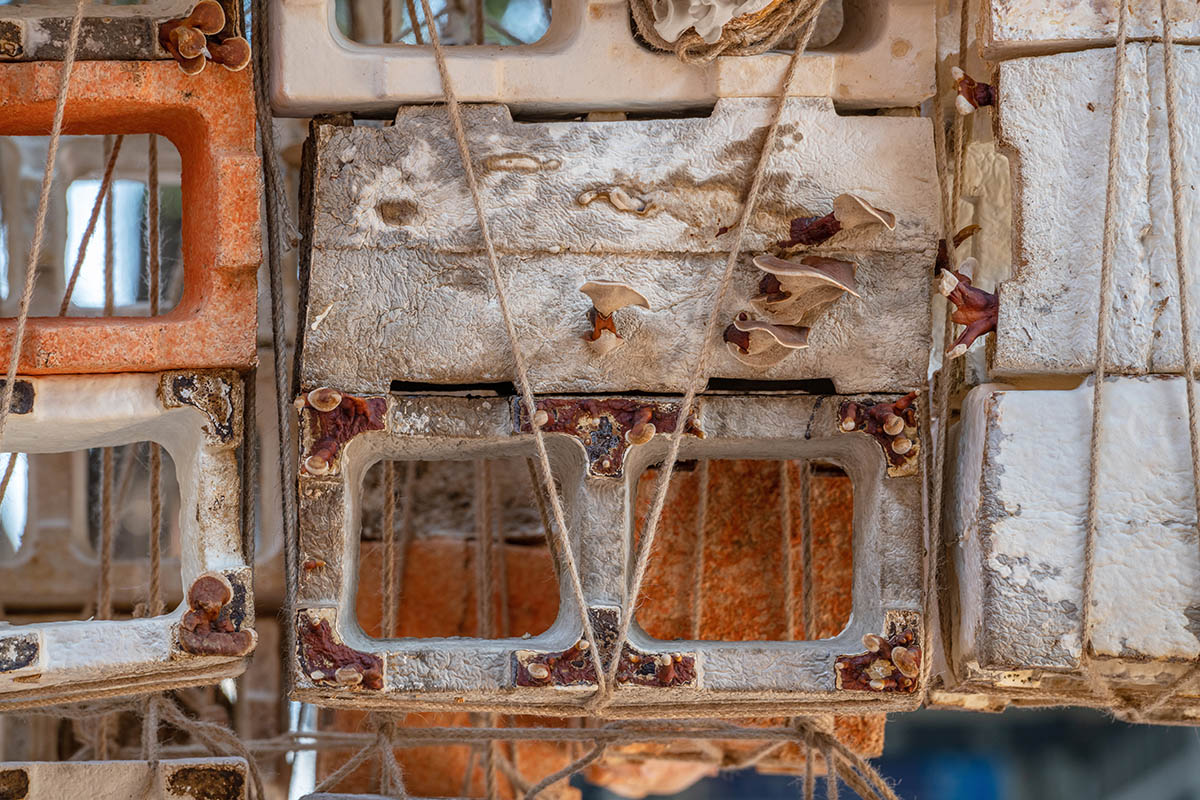 The studio said that "the mycelia will be deactivated in the manufacturing process. To compensate, the team selected some bricks to grow fresh mushrooms after assembly." 
"The hope is to make this installation part of the sustainable ecological cycle, a man-made device that grows and evolves as a living organism," it added.
Image © Studio Link-Arc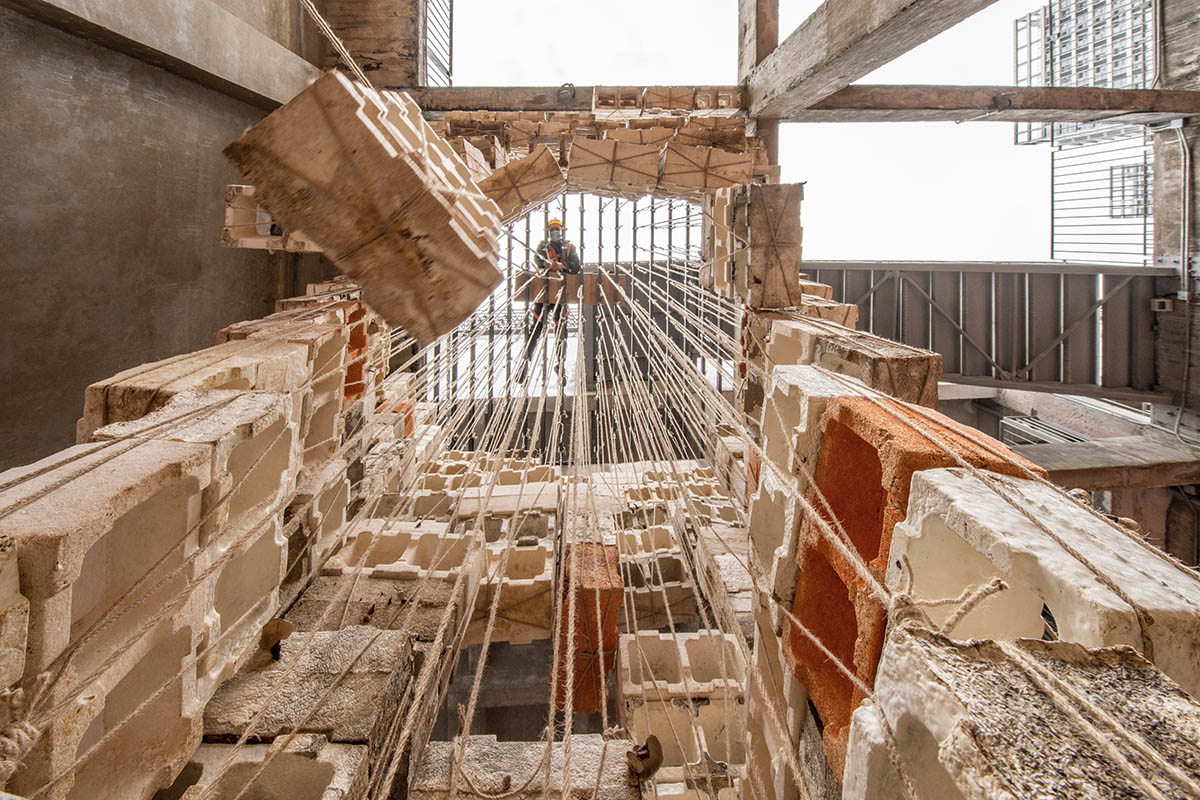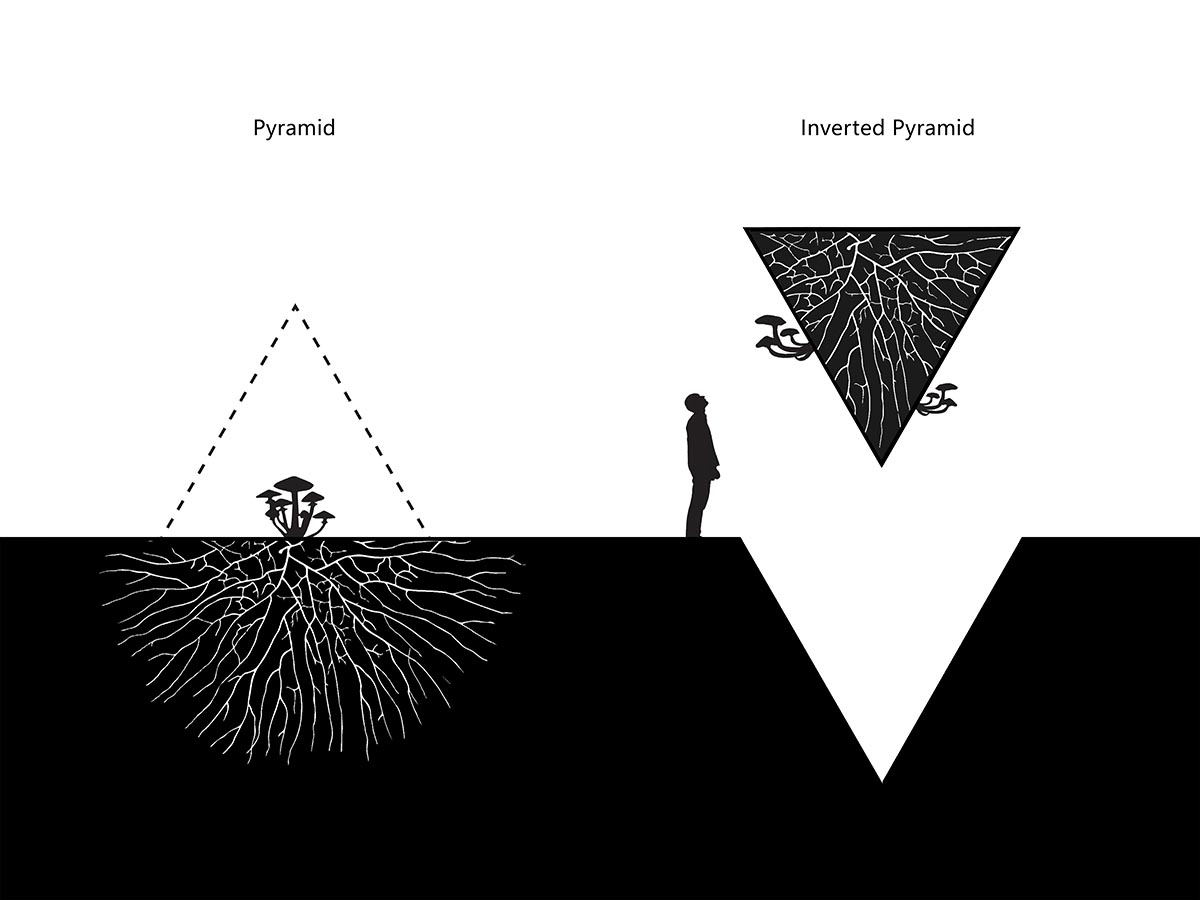 Studio Link-Arc designed a foreign language school in Shenzhen, featuring staggered volumes to create an "urban garden" and challenge to the traditional school typology. 
Project facts
Project Name: Inverted Architecture
Architects: Studio Link-Arc
Project Location: Shenzhen, China
Exhibition Duration: Dec 10, 2022-March 12, 2023
Chief Architect: Yichen Lu
Project Manager: Shiyu Guo, Luis Ausin, Simeng Qin, Zhenwei Zhong
Project Team: Letty Lau, Zida Liu, Lingyun Yang, Zeynep Ugur, Rui Zhou, Chenhao Ma, Xiaoxuan Hu, Yu Lai, Shawlon Hsieh
Biological Technology Support: Bio-Loop
Video Editing: Ery Wang, Hao Li
Sponsor: Shenzhen Municipal People's Government
Undertaker: Shenzhen Planning and Natural Resources Bureau, Shenzhen Luohu District People's Government
Executed by: Guangdong Yuehai Land Group Co., Ltd
Supported by: Shenzhen Biennale Public Art Foundation, Shenzhen Urban Planning and Design Institute
Special Fund Support: Shenzhen Cultural Industry Development Special Fund
Chief Curators: Lu Andong, Wang Zigeng, Chen Bokang
All images © Yu Bai unless otherwise stated. 
All drawings © Studio Link-Arc.
> via Studio Link-Arc
brick
installation
mushroom
mycelium