The Seoul Metropolitan Government (SMG) has announced plans on Wednesday to build the "world's tallest spokeless ferris wheel" at Haneul Park in Sangam-dong, Mapo-gu, in South Korea.
Dubbed Seoul Ring, in 2027, the skyline of the Seoul city will be greeted with a 180-meter (591-foot) spokeless ferris wheel (or also known hubless) without any spokes running through it. 
In normally designed ferris wheels, the capsules or pods are mounted outside of the rim with electric motors to be able to rotate the capsules independently. 
"The world's tallest spokeless ferris wheel"
According to the government, the new ferris wheels will not have a central hub, instead the rim of the wheel stays fixed in place and each pod travels around the circumference of the rim.
Announced on the Seoul Metropolitan Government's website1, Seoul Ring will be second tallest ferris wheel after the world's tallest spokeless ferris wheel, reaching at 145 meters, which opened in Shandong, China in 2017.
The Seoul Ring will begin construction in June 2025 with expected completion by December 2027.
Seoul Ring will be built using innovative and eco-friendly technologies
Set to be built on a hilltop near the Han River in Sangam-dong neighborhood, a former landfill site – also known as an eco-themed park, the new ferris wheel will be built by using innovative and eco-friendly technologies. Meanwhile, the wheel frame will be designed to generate solar power.
"Sticking to its principle to find the most representative views of Seoul seen from the Hangang River and the Ferris wheel, the city has been looking into various candidate sites including Haneul Park, Nodeul Island, Yeouido Park, and Jamsil since last October," said Seoul Metropolitan Government in an announcement. 
"The final list was narrowed down to Nodeul Island for its outstanding infrastructure and Haneul Park for its view and symbolism based on accessibility, neighboring tourism infrastructure, view, landmark, and balanced development." 
"As a result of a final assessment, Haneul Park was finally selected by reason of its symbolism of inter-Korean reconciliation and as a gateway to Seoul."
"Haneul Park is deemed a meaningful place for its symbolism as a gate to both Seoul and unified Korea and as a location geographically close to North Korea which shows the harmony and reunification of the Korean race," the government added.
When visitors get on the capsules, they will have amazing views from the Hangang River, downtown Seoul, Namsan Mountain, and even Bukhansan Montain. 
"In addition, it is the best place to realize the city's municipal vision of finding harmony among citizens, planet, future, and environment (i.e. carbon neutrality, climate change), given the past of Haneul Park as a landfill site," according to the government.
The Seoul Ring will be built with an innovative, spokeless technology that is completely aesthetically advanced, compared to the design of traditional ferris wheels.
To achieve this, the Seoul city will consult domestic and international experts in architecture and engineering to ensure construction safety and structural integrity of the spokeless design of Seoul Ring. 
"The city plans to supplement and develop more progressive and creative designs in cooperation with the private sector," according to the government's announcement.
The spokeless ferris wheel will integrate augmented reality technology
The Seoul Ring will have 36 carriages, with each can accommodate up to 25 passengers, meaning that, when it is full, it will carry up to 12,000 people per day, as reported by The Korea Herald2. 
By using augmented reality technology, visitors will be able to read tourism information projected onto the glass walls in each capsule.
The Korea Herald reported that the government also plans to allow visitors to "dine in the sky" by holding catering banquets. According to the same source, the project budget is expected to cost 400 billion won ($303.3 million). 
Installing gondola lifts and moving walkways, aiming to provide tourists greater access to Haneul Park, are considered as part of the plans. Thanks ot this services, visitors will be able to choose to either climb down the hill or take a paid golf cart service.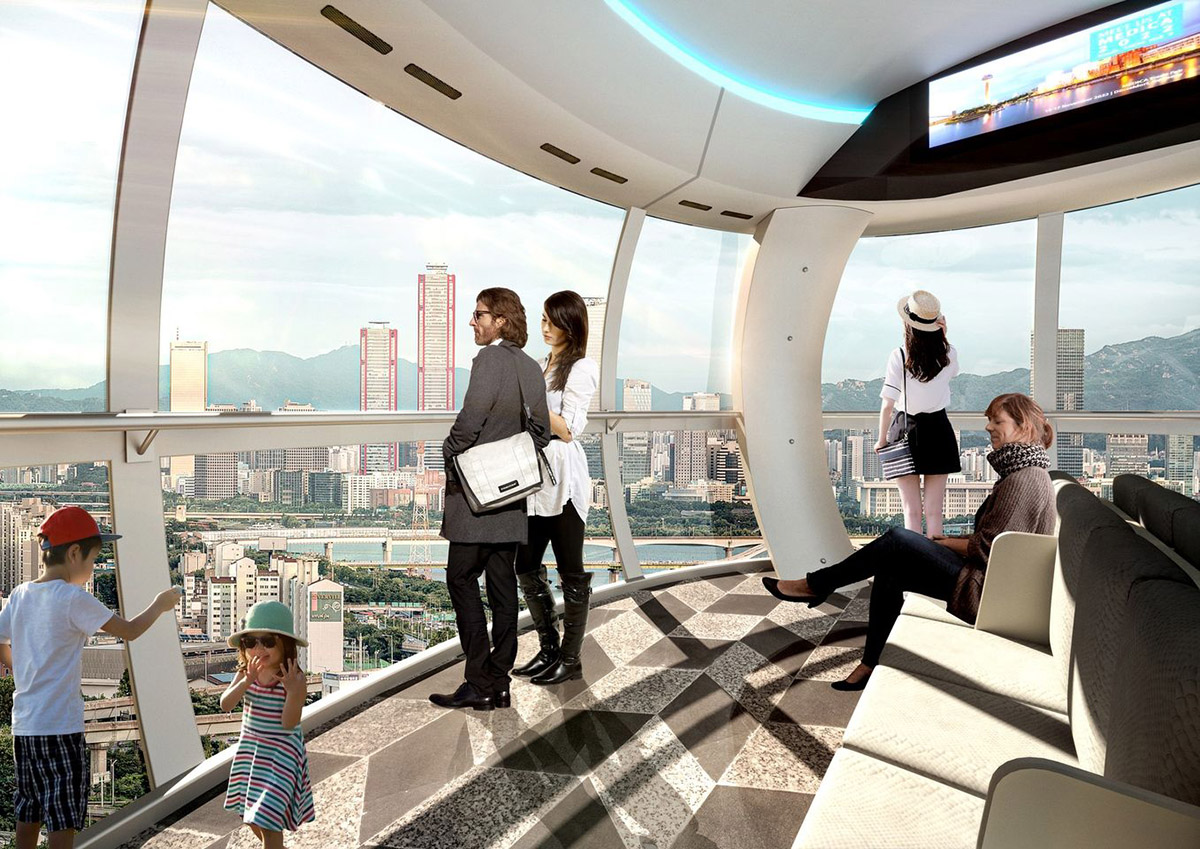 Reported by The Korea Times, the government will also feature an exhibition about the park at the lower part of the ferris wheel.
"Not only will Seoul Ring be eco-friendly, operating on recycled energy in a unique ring-without-spokes design, but it is also expected to attract up to 30 million visitors and boost the local economy," said the Seoul Government in its Facebook page.
"Seoul Ring is expected to be a truly a one-of-a-kind attraction that will put Seoul on the map."
The Robot Science Museum, designed by Melike Altınışık Architects – MAA, is currently under construction in Seoul. UNStudio designed a new masterplan for a smart 10-minute city in Seoul, which is expected to be completed in 2024. 
---
1. Seoul Ring: The Seoul Metropolitan Government's website. (Wednesday, March 8, 2023). Retrieved 16 March, 2023 from (https://english.seoul.go.kr/futuristic-landmark-of-seoul-ring-to-be-constructed-in-haneul-park-sangam-dong-by-2025/). Copy-paste into your browser. 
2. Seoul Ring: It will carry up to 12,000 people per day. (Wednesday, March 8, 2023). Retrieved 16 March, 2023 from (https://www.koreaherald.com/view.php?ud=20230308000532). Copy-paste into your browser. 
All images by Seoul Metropolitan Government, via Twitter. 
> via Seoul Metropolitan Government
ferris wheel
Seoul