The Pavilion of Bahrain has installed a group of islands with natural landscape to investigate the position of cooling infrastructures in relation to wider ecosystems at this year's Venice Architecture Biennale.
Named Sweating Assets, the exhibition is located in the Arsenale venue and draws attention to climate conditions and ecology. 
Commissioned by His Excellency Sheikh Khalifa Bin Ahmed Al Khalifa, President of the Bahrain Authority for Culture and Antiquities, the exhibition is curated by architects Latifa Alkhayat and Maryam Aljomairi. 
"Sweeting Assets entails the use of existing systems to their best capacities rather than starting anew. Our built environments, infrastructure, and relationships are a complex resource-rich landscape with often overlooked offerings," stated in an exhibition description. 
"In particular, this exhibition sheds light on water generated through the interaction of cooling systems with Bahrain's hot and humid climate. By no means encouraging wasteful usage of air conditioners, the broader research uncovers the possibilities (rather than solutions) made through their inevitable consumption."
The exhibition looks at the unique climatic conditions of extreme heat and humidity alongside current demands for comfort in Bahrain. 
Traversing in scales—from the domestic to the territorial, the exhibition highlights the position of cooling infrastructure in relation to a wider ecosystem. 
The curators evaluate the exhibition of Sweating Assets from an adaptive perspective of resource management and explore ways to discover how to operate with the best capacities in the existing systems rather than starting anew.
The pavilion takes into account Bahrain's intense conditions of high heat and humidity, and showcases that air conditioning produces proportionally high condensate. 
"Utilizing this unintended byproduct of anthropogenic activity, loose ends are tied, redirecting water to other parts within the larger ecology," stated in an exhibition description.
The exhibition presents a microenvironment of a choreographed temperature, humidity, and condensation. The pavilion conveys the omnipresent conditions and experiences of life on the island. 
"Supplementing the import of the climate is a call for the collection and rerouting of the incidental condensate reserves towards wetlands and agricultural regions in need of replenishment," stated the pavilion. 
The curators place a man-made landscape adjacent to a cold condensing volume, demonstrating the dichotomy of industrial systems against transient ecological grounds.
"This volume is an emblem of the constantly cooled and condensing living enclosures. As Venice's thick air comes into contact with the volume, at dew point temperature, water constantly releases across its surface," stated the pavilion.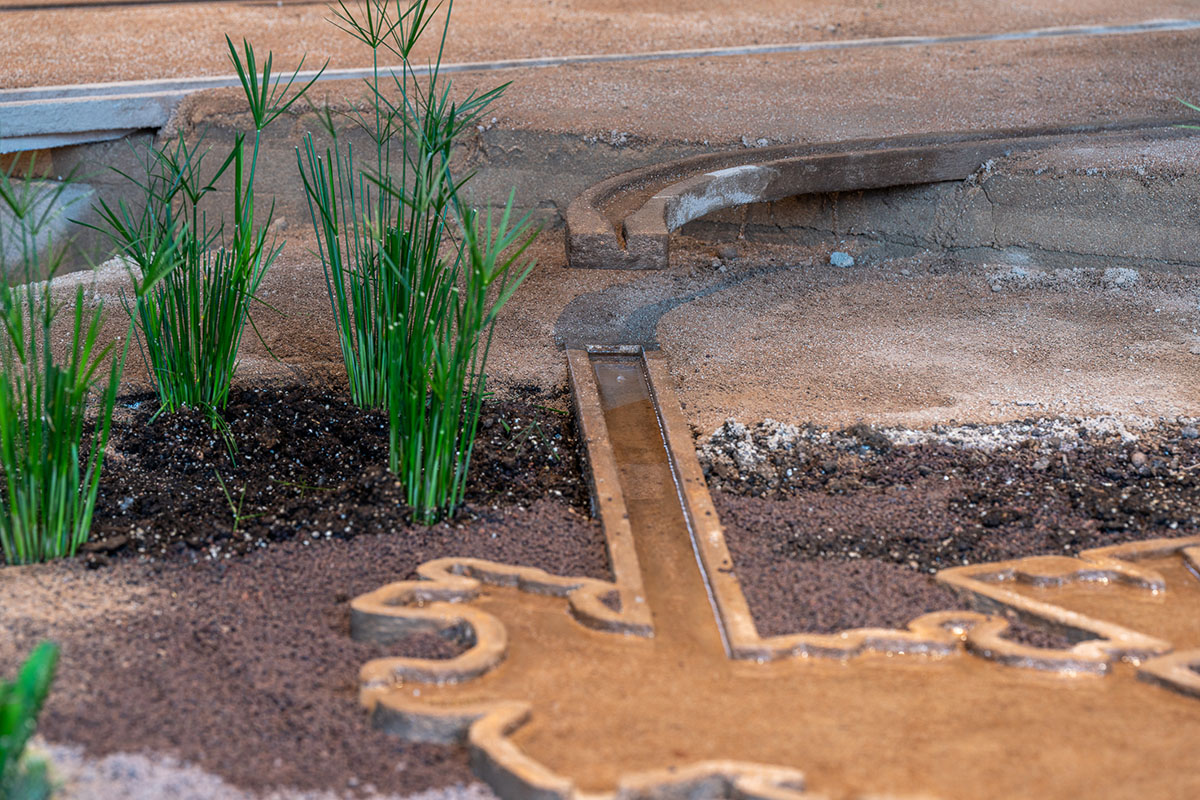 Coatings, channels, and grooves control condensation patterns along with the movement of water. From the surface, water is collected and led to 'deposits' on an earthen landscape. 
The deposits each represent regions scaled based on quantitative analysis of the cooling they consume and subsequent condensate they produce. 
"Buildings behave as vessels for condensation. As they comfort and cool, they sweat moisture in two ways. The first is through deliberate dehumidification as air enters dwellings," stated in an exhibition description.
"The second is unintentional water condensation on glass surfaces. If understood and collected, condensate reservoirs hold immense potential as a water source. However, as it stands, this distilled water is drained in an already water-scarce region," reads the description.
The exhibition is complemented by a publication, titled Sweating Assets: On Climate Conditioning and Ecology", in which the publication provides numerical analysis and qualitative speculations and writings. 
A nationwide audit studies cooling infrastructure, its environmental implications, and offerings i n the form of water. 
Maryam Aljomairi is a multidisciplinary architect and doctoral candidate at Harvard University. Her research spans across scales—from nano to macro—lying at the intersection of technology, material programming, and computational fabrication. 
Latifa Alkhayat holds a Master of Architecture from MIT. While speculating on future material practices, she explores their technical potential and maintains a sensitivity towards cultural reception and ecological impact.
The Venice Architecture Biennale 2023 is taking place from Saturday 20 May to Sunday 26 November, 2023 at the Arsenale and Giardini venues in Italy. 
The theme of the 18th Venice Architecture Biennale is The Laboratory of the Future curated by Ghanaian-Scottish architect, academic, and novelist Professor Lesley Lokko.
Read more about WAC's coverage about the biennale pavilions on Venice Architecture Biennale 2023. To see more pavilions from this year's biennale, you can also visit WAC's Instagram/Reels for exclusive videos.
All images © Andrea Avezzù, courtesy of La Biennale di Venezia.
> via The Bahrain Pavilion 
cooling
ecology
exhibition
Sweating Assets
Venice Architecture Biennale