Turkish authorities have issued arrest warrants for more than 130 people associated with collapsed buildings caused by the devastating Turkey-Syria earthqake on 6 February.
Reported by the BBC News Turkish, Turkey's Minister of Justice Bekir Bozdag said that 134 people, including contractors, engineers, architects, have been been identified on Sunday. Turkey's vice-president Fuat Oktay announced in his latest statement that 131 suspects associated with the destroyed buildings were determined.
It has been reported by the BBC News Turkish that the number of detainees within the scope of earthquake crimes investigations has increased to 8.
While the death toll in the Kahramanmaraş-centered earthquake climbed to 35, 418, the search and rescue teams still continue to search more people at the earthquake provinces. It is believed that people can still be rescued alive as long as the rescue teams continue to search. 
Turkey establishes "earthquake crimes investigation bureaus"
The Ministry of Justice issued an announcement to the Chief Public Prosecutor's Offices in the provinces affected by the earthquake and demanded the establishment of Earthquake Crimes Investigation Bureaus regarding the destroyed and collapsed buildings.
Turkey's vice-president Fuat Oktay said "we will follow this up meticulously until the necessary judicial process is concluded, especially for buildings that suffered heavy damage and buildings that caused deaths and injuries," reported by Reuters.
According to the Ministry of Justice's announcement, the bureau's duties will include: it will include efforts to identify the contractors, the technical responsible staff, the surveyors and other responsible persons for the demolished buildings. 
The announcement said that "necessary investigations will be carried out immediately for those who are determined to be responsible, and necessary protection measures will be taken immediately due to the possibility of escaping and blacking out evidence."
The announcement also covers different items, such as the coordination of evidence collection, the creation of an expert committee consisting of architects, geology and civil engineers and other experts to prepare a report on the subject.
A collapsed building in Diyarbakır, 300 km from the epicenter on February 6. Image by VOA
"Outdated building methods and poor building codes"
Environment, Urbanization and Climate Change Minister Murat Kurum said that 24,921 of more than 170,000 buildings in southern Turkey were either destroyed or severely damaged, according to Reuters. 
To illustrate, one of collapsed buildings was Rönesans Residence's architect and contractor Mehmet Yasar Coskun. His building was a 12-storey building that accomodated 250 flats in Antakya. The building, which was built a decade ago, was entirely collapsed.
Mehmet Yasar Coskun was detained at Istanbul Airport just before he was about to flee to Montenegro. 
In his statement under custody, Coskun said that he did not know why the building had collapsed, reported Reuters.
"We fulfilled all procedures set out in legislation," Coskun told local news agency company Anadolu Agency. "All licenses were obtained."
Considering the extensive scale of the earthquake, it is believed that the poor building codes, outdated building methods, lack of inspection and lack of enforcement of earthquake regulations in Turkey has exacerbated the extent of the destruction.
The quality and safety of buildings in Turkey were increased with the new law after the 17 August 1999 Kocaeli earthquake and the 12 November 1999 Düzce earthquake. 
However, it is stated that 52 percent of the destroyed buildings are structures built after 2001, that is, after the 17 August 1999 Kocaeli and 12 November 1999 Düzce earthquakes. This coincides with when Turkish president Recep Tayyip Erdogan's government came to power in 2002.
Istanbul Technical University (ITU) Architecture Faculty Structural and Earthquake Engineering Unit lecturer Professor Dr. Oguz Cem Celik told CNN Türk that "52 percent of the building group in the geography affected by the earthquake is the buildings constructed after 2001, in other words, after the 17 August 1999 Kocaeli and 12 November 1999 Düzce earthquakes."
"This is actually a very important ratio. While a high rate of reconstruction will lead to better earthquake performance, the collapse of some buildings built in this process in the last two earthquakes in the region is as worrying as it is sad," Celik said. 
Another reason of the destruction is believed as "construction amnesties" initiated by the government, which represent the official permission for illegal buildings with a "Building Registration Certificate" given to buildings that are in violation of the zoning legislation.
According to local newspaper Cumhuriyet, a total of 9 construction amnesties was initiated during the 20-year rule of the Erdoğan's government, encouraging a construction boom in Turkey.
DW reported that there were 294,166 buildings which had been benefitted from construction amnesty in 10 provinces affected by earthquakes.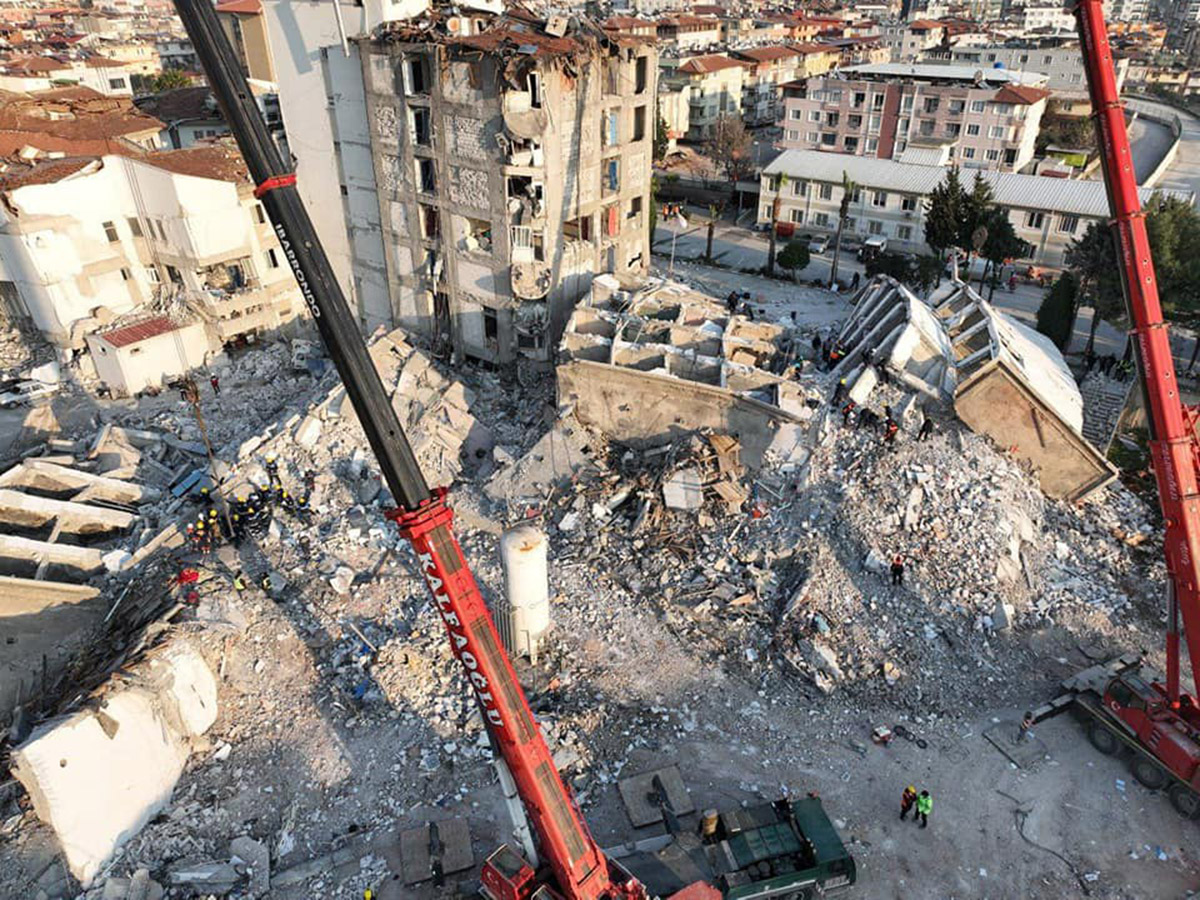 Emergency Service of Ukraine conducts search and rescue work in Hatay Province of Turkey after the earthquake on 6 February 2023. Image by State Emergency Service of Ukraine (CC BY 4.0) via Wikimedia Common
"It's part of destiny's plan"
Acknowledging that they had some deficiencies during a visit to the disaster area, Erdoğan denied the allegations and said, "such things have always happened," reported the BBC. 
"It's part of destiny's plan," Erdoğan said.
According to NPR report, the University of California engineering professor Jonathan Stewart said "for buildings in Turkey that are more than about three stories tall, a usual construction technique is to use reinforced concrete."
Stewart told NPR that "Typically, the columns and the beams are concrete." "And then there's kind of a masonry infill block inside these frames, which falls apart very quickly when the shaking begins."
Abbie Liel, an engineer and professor at the University of Colorado Boulder, also said that "assessment pretty much matches what she's seen in photos of the destruction in Turkey."
Top image: Destructions in Hatay Province of Turkey after the earthquake on 6 February 2023. Image by State Emergency Service of Ukraine (CC BY 4.0) via Wikimedia Common. 
earthquake
Syria
Turkey-Syria earthquake