Shanghai-based design practice XISUI Design has created an amourphous playground by using paratmetric modelling and drainage optimization simulation to tailor indoor and exterior spaces according to the complexity and slope of the terrain.
Named Natural and Organic: Red Dunes Playtopia, the playground, located in Guanggang New Town, Guangzhou Province, China, adopts an innovative approach in playground design by using advanced technology tools.
Creating undulating hills, made up of concrete, the structure takes different forms of mountain-like bridges with a Space Lander, alongside planets for observation.
Activity space on undulating terrain
The red-colored playground seamlessly integrates functional installations within the natural topography, to evoke "the charm of a mountain nest or a jungle treehouse."
Thanks to cave-like spaces, children can circulate around the space, while giving a 360-degree experience throughout the playground. The feeling of inside-outside relationship is entirely removed in the project.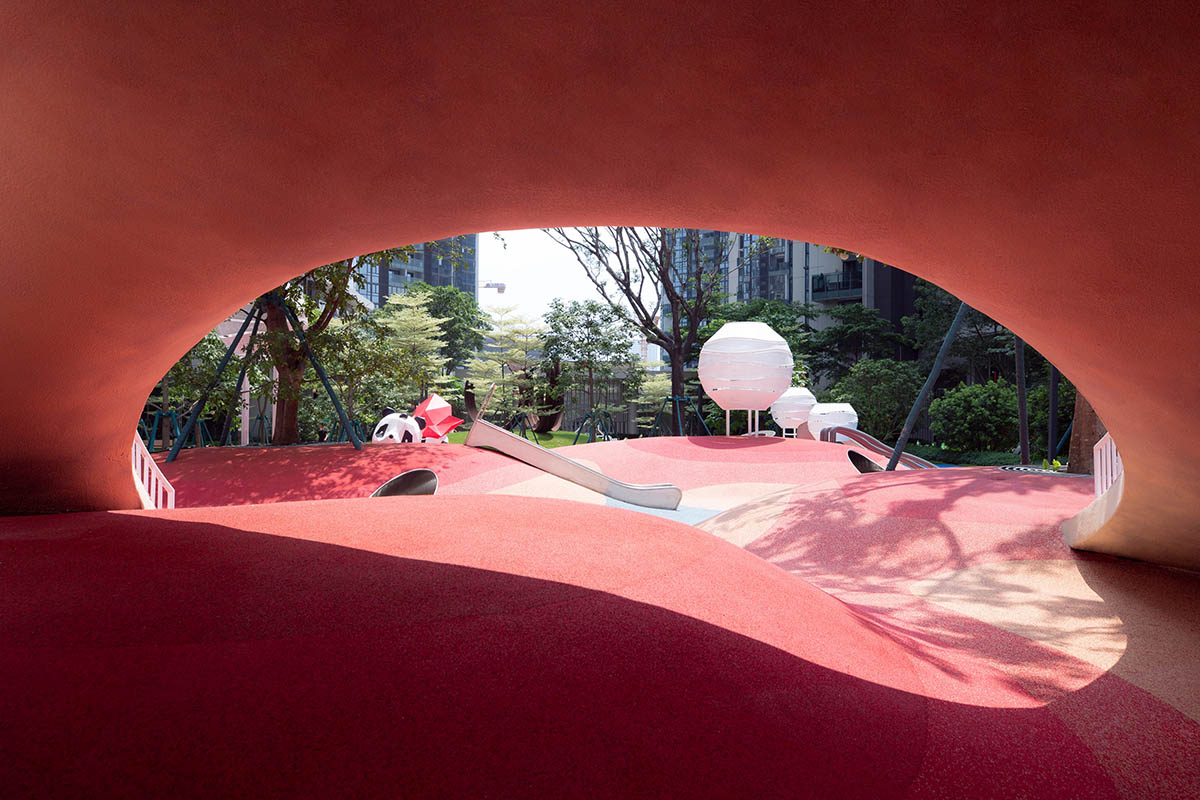 Cave-like children's space
XISUI Design used a parametric modelling and structural form-finding algorithms to harmoniously blend the outdoor space with its natural surroundings. 
"It aims to inspire both children and adults to immerse themselves in the joy of outdoor play and exploration," said XISUI Design.
Parametric topography design 
"Through digital generation, the topography has been tailored to accommodate the complexity and slope of the terrain, providing distinct zones for different age groups," the office added. 
"Children's activity facilities seamlessly merge with the natural environment, forming a cohesive space."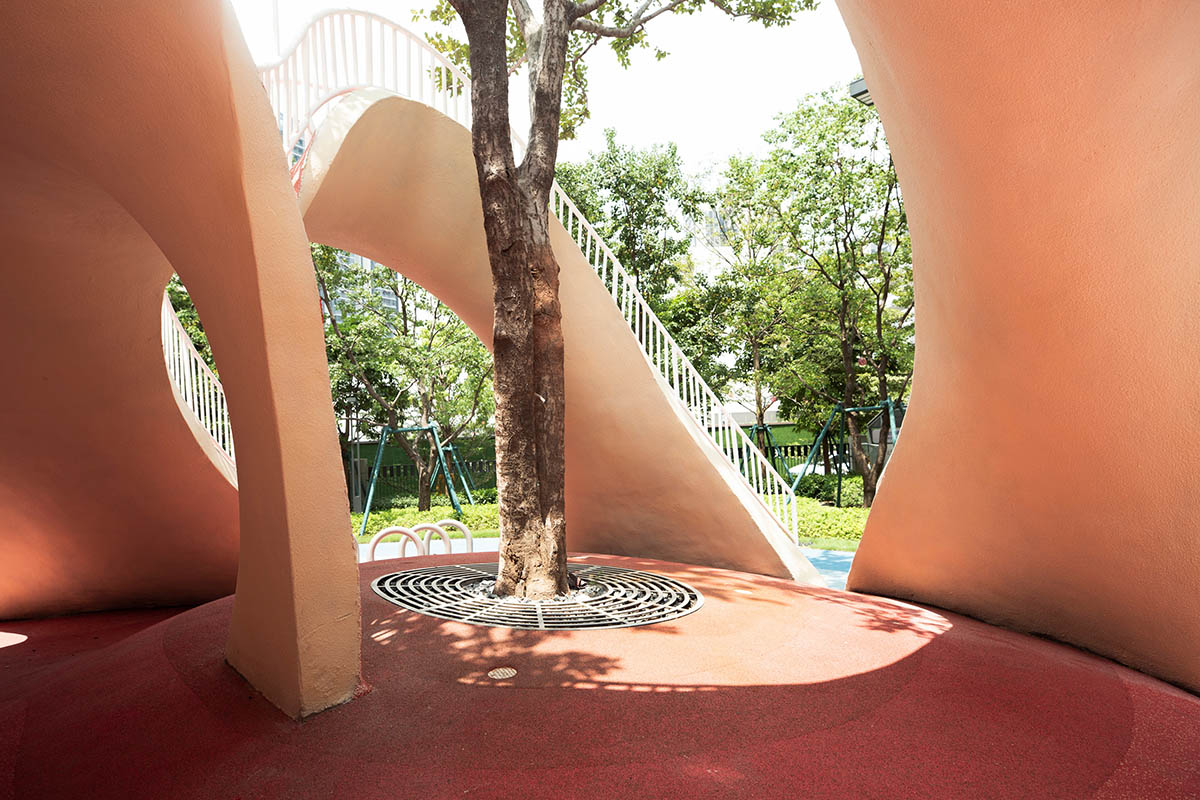 Digital calculation of natural drainage 
By applying meticulous calculations and simulations, according to the studio, these calculations allowed to develop a comprehensive natural drainage system, effectively managing rainwater flow despite the undulating terrain. 
"This innovative approach eliminates the need for surface drainage outlets, allowing rainwater to naturally disperse into green spaces and designated peak drainage outlets," the studio added.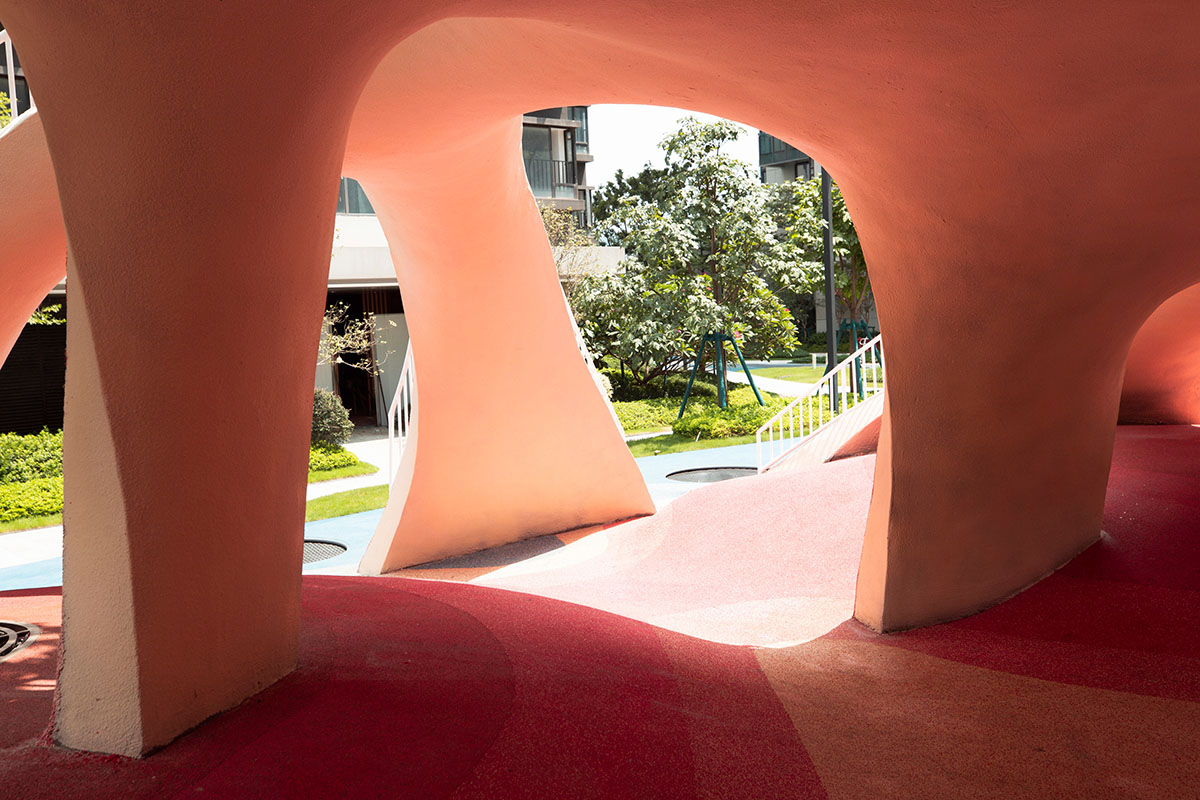 Concrete shell structure 
Described as "a unique challenge in terms of form and structure with its undulated concrete shell structure", the project emulates the cave-like topography of the natural landscape, providing climbing spaces above, and sheltered areas below. 
Challenging climbing facilities
To achieve this, the studio was inspired by "the load transfer mechanism of natural arches." The concrete shell has large spans and ultra-thin structural thicknesses. 
"By integrating with the landscape, it enhances visual cohesion of the artificial structure, reduces column presence, and optimizes spatial efficiency," the architects continued.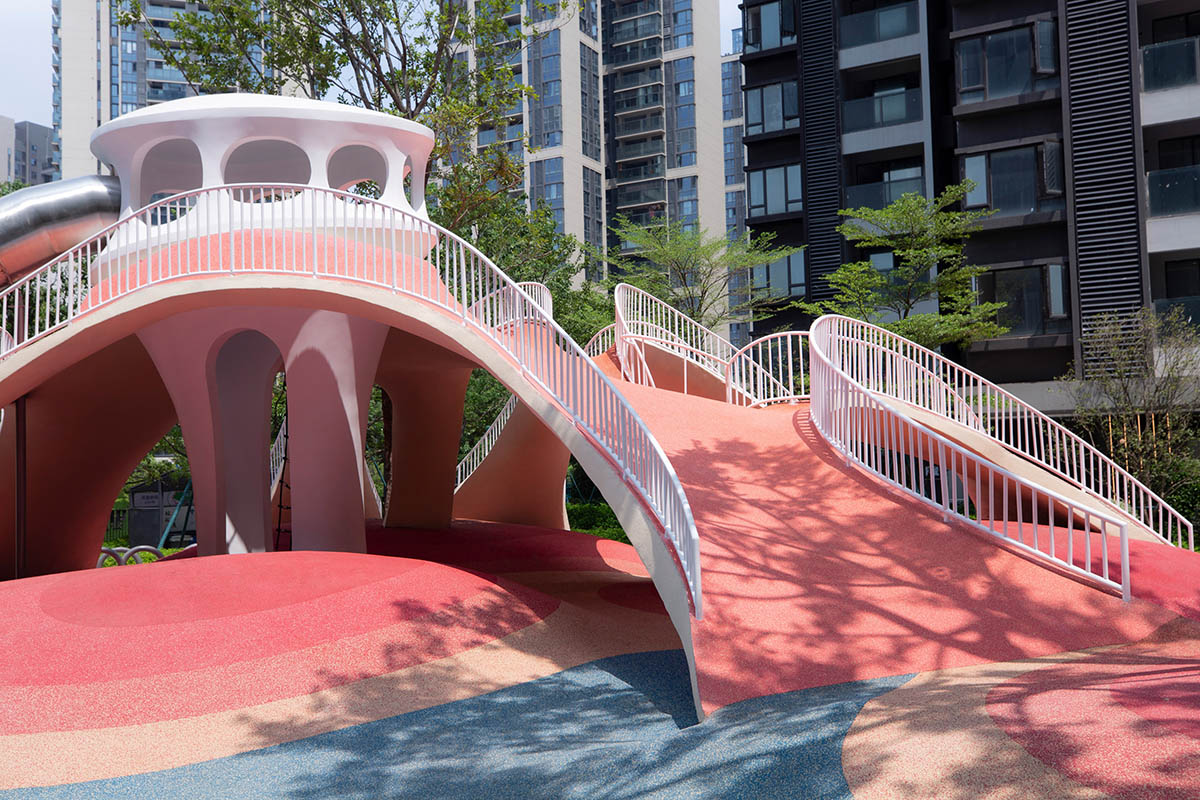 Reduces column presence and optimizes spatial efficiency
Practicing material efficiency and sustainable ideals
According to the studio, concrete materials have advantages in terms of formability, cost-effectiveness, and practicality, that's why, the choice of this material has become a key direction in green architecture and the development of future organic structures. 
Compared to conventional beam-column structures, using mechanical calculations and modeling analysis in this project, the studio has achieved material savings – they achieved approximately two-thirds reduction in raw material usage for the same span.
Cabin-style giant slide activity facility
Through undulating red dunes, they provide a space for children to run, jump, and roll, while integrating a variety of functional children's activity installations into the terrain. 
"With its innovative design techniques and advanced technologies, such as parameterized topography design, digital calculation of natural drainage, and the use of a unique concrete shell structure, the project harmoniously blends functionality, aesthetics, and sustainability," said the office. 
"The project aims to inspire users of all ages to embrace outdoor play and exploration, while fostering a strong connection with the surrounding natural elements," the team concluded.
Integration of activity facilities with terrain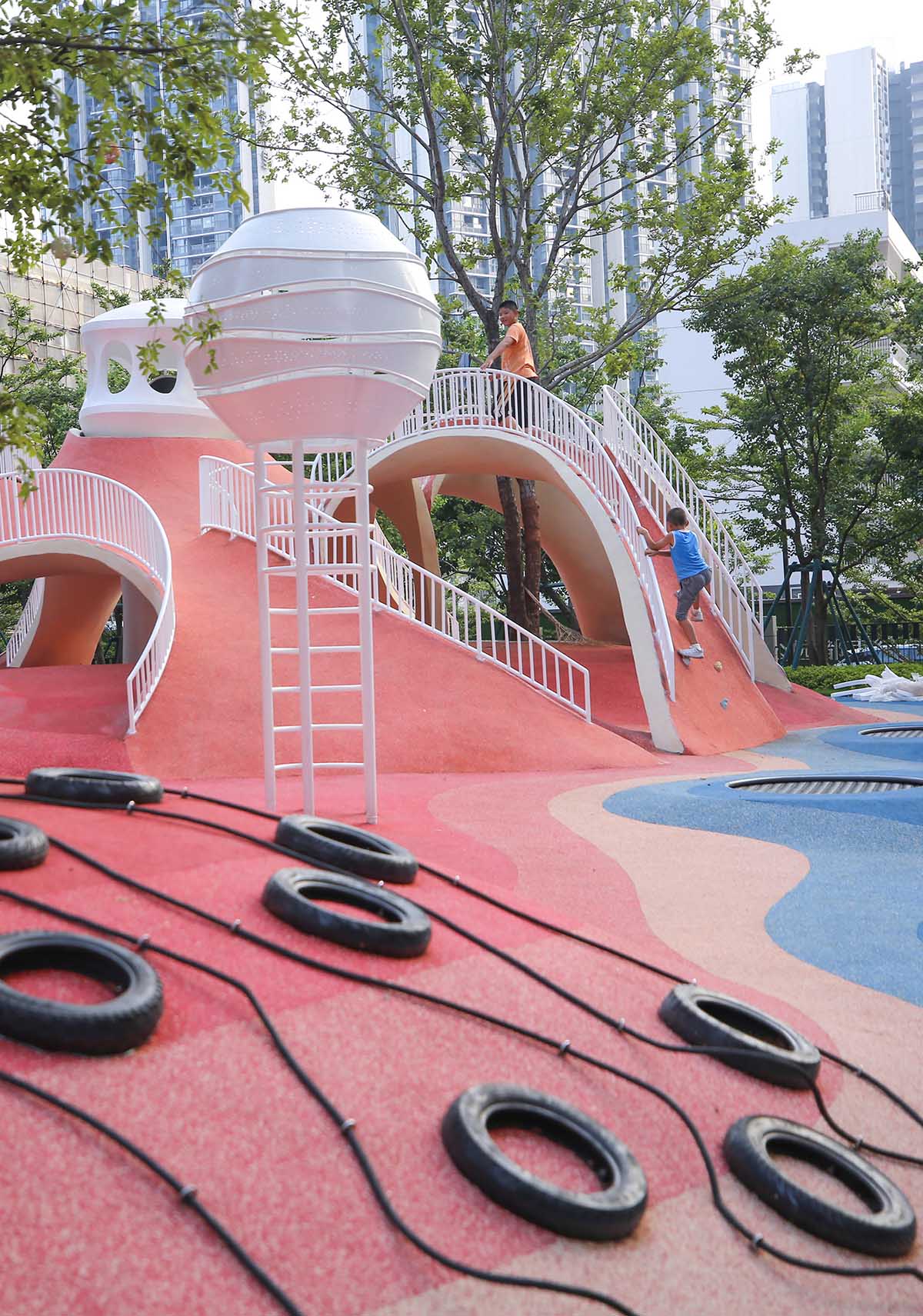 Integration of activity facilities with terrain
Barrel-themed children's activity facilities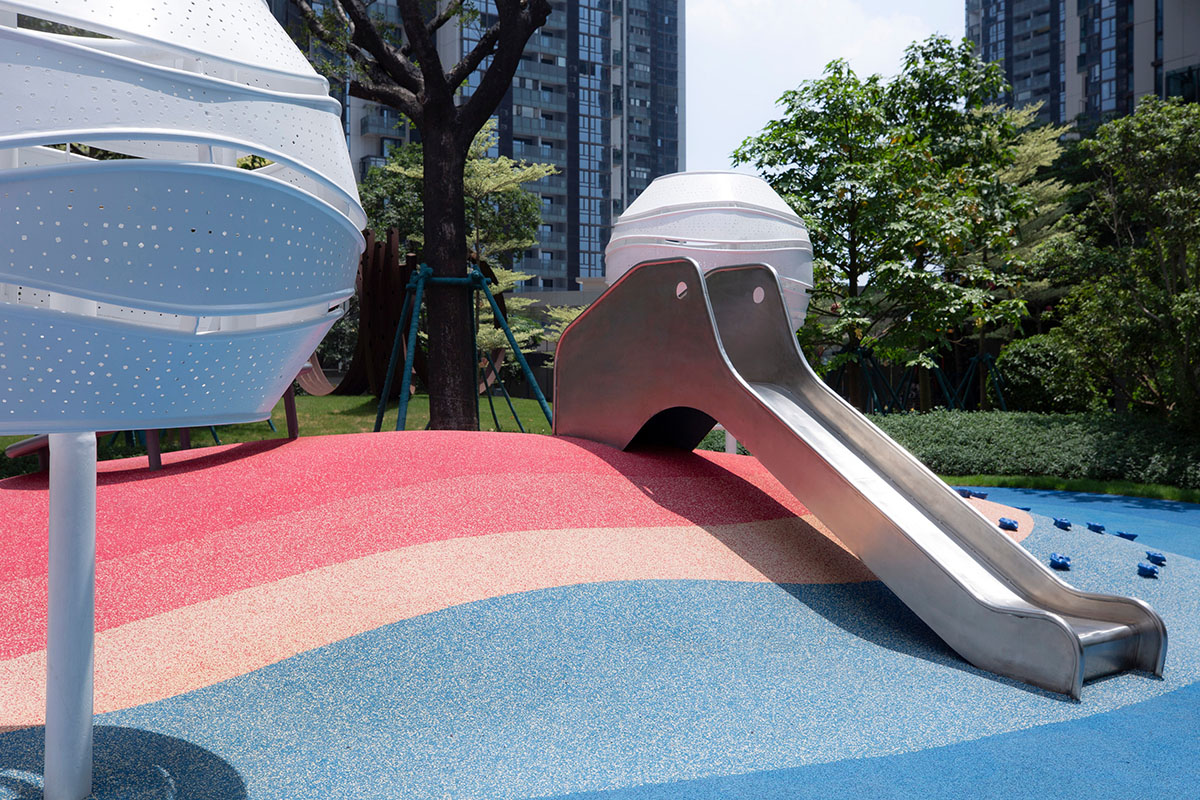 Small slide
Contour Analysis
Section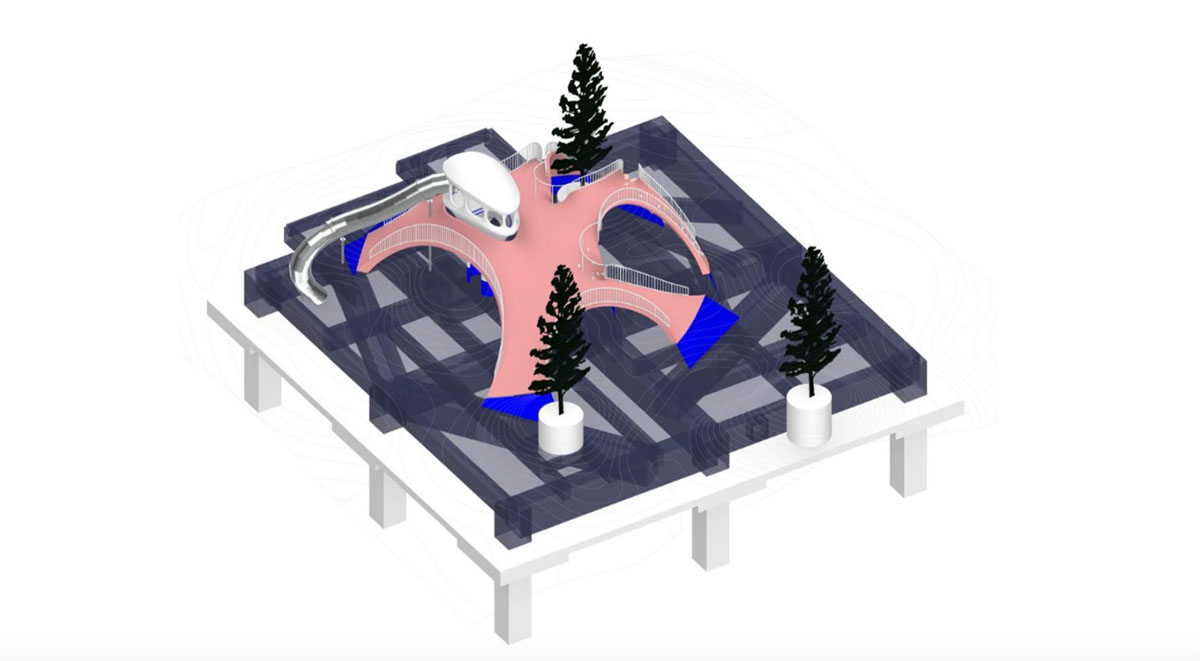 Structural Analysis
Contour Analysis
XISUI Design, founded in 2018, is a Shanghai-based design brand specializing in innovative design solutions. 
The office's focus is shaped around user experience and cultural integration, XISUI Design covers various domains, including space design, children's playgrounds, technology landscapes, landscape construction, installation art, and public sculpture.
Project facts
Official Project Name: Natural and Organic: Red Dunes Playtopia
Location: Guanggang New Town, Guangzhou Province, China
Client: Guangdong Poly Urban Development Co., Ltd. 
Architects/designers: Hu Yihao
Project Manager: Peng Yang
Design team: XISUI Design
Structural Consultant: Shanghai Chenggang Structural Design Associates & Spiring Architectural Design
Construction: XISUI Design
Budget: $300K
Project completion date: August 25, 2022 
All images © Hu Yihao, XISUI Design.
All drawings © XISUI Design.
> via XISUI Design
built
concrete
landscape
parametric
park
playground
XISUI Design